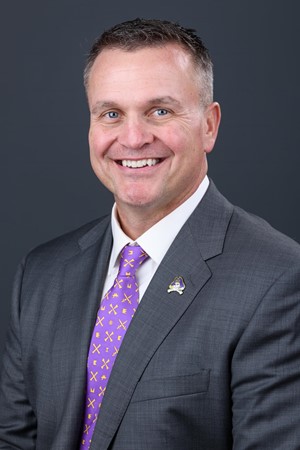 Mike Houston, who guided James Madison to successive NCAA FCS Championship Game appearances and one national title, was named head football coach at East Carolina University in December of 2018.
The Franklin, N.C. native owns an 80-25 record and a combined six conference championships in eight seasons as a head coach. Houston signed a five-year contract and will be formally introduced as the Pirates' 22nd head coach at a 10 a.m. press conference Tuesday inside the Murphy Center.
His acceptance of the ECU position officially ended a three-year tenure as the Dukes' head coach. Houston guided JMU to a 37-6 three-year record, which included three NCAA FCS postseason appearances (2016 National Champions, 2017 National Runner-Up, 2018 second round) and a pair of Colonial Athletic Association (CAA) championships.
The Dukes recorded consecutive 14-1 seasons in 2016 and 2017, which was a school record for single-season victories. JMU won a CAA and program-record 26-straight games between the two seasons, which ranks second all-time in FCS history. The Dukes sported a 15-3 ledger against Top 25 teams during Houston's three seasons, claimed a 34-14 victory over the Pirates in 2017 and hosted ESPN's College GameDay twice in three years.
Houston, who was named the 2016 AFCA FCS National and 2016 CAA Coach-of-the-Year, mentored 15 All-America selections including 2017 Consensus FCS player Andrew Ankrah, 44 All-CAA honorees (23 first-teamers) and five conference player-of-the-year winners (one offense, two defense, two special teams).
Houston led the Dukes to the 2016 NCAA Division I FCS Football Championship with a 28-14 win over No. 13 Youngstown State. In 2017, JMU made a return trip to the national title game before falling 17-13 to No. 2 North Dakota State. His final game as the Dukes' head coach ended with a 23-20 setback at No. 9 Colgate during second round action of the FCS Playoffs on Saturday.
Possessing 13 years of collegiate coaching experience, including eight as a head coach, Houston arrived in Harrisonburg, Va. after serving two years as head coach at The Citadel (2014-15). He led the Bulldogs to a 14-11 record in his two seasons and is the only coach in The Citadel's history to win a Southern Conference championship within his first two seasons.
In 2015, he guided the Bulldogs to the program's fourth winning season since 1995 with a 9-4 record and a share of the 2015 SoCon title. The Citadel boasted a conference-best +117 scoring margin, including a +100 edge during league play, and Houston went on to be named SoCon Coach-of-the-Year and AFCA Region 2 Coach-of-the-Year. They also defeated Southeastern Conference member South Carolina 23-22 in the regular-season finale and advanced to the second round of the FCS playoffs after upsetting ninth-ranked Coastal Carolina.
In the first-round playoff victory, Houston's run game broke a school record with four 100-yard rushers as it piled up 524 yards on the ground, the most in a NCAA playoff game since 2012 and the second-highest in 2015 for FCS, only behind the Bulldogs' nation-best 535 rushing yards in the season opener.
Prior to The Citadel, Houston spent three seasons as the head coach at Lenoir-Rhyne, an NCAA Division II school in the South Atlantic Conference. He accumulated a 29-8 record at the helm and directed the Bears to three consecutive SAC championships, a stretch that included a school-record 13 wins in his final year.
Houston was named SAC Coach-of-the-Year each season and was also the Don Hansen Super Region II Coach-of-the-Year in 2013. In his final season at LRU, the Bears advanced to the Division II national championship game and earned a No. 2 national ranking in the final polls.
Before his elevation to head coach, Houston served as Lenoir-Rhyne's defensive coordinator and secondary coach from 2007-10 and spent the 2006 year as associate head coach and defensive coordinator at Brevard College.
Houston is a 1994 graduate of Mars Hill University, where he played tight end for the Lions and earned a bachelor's degree in biology. In 2014, Houston was inducted into the Franklin High School Athletic Hall of Fame.
He is married to the former Amanda Owen and they have two sons, Owen Michael and Reid Wilson.